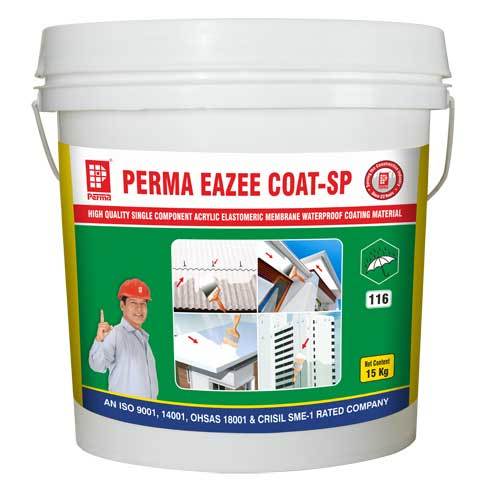 Acrylic Polymer Waterproofing Coating
Product Code : 16
Product Description
Owing to our expertise in this field, we are engaged in offering Perma Acrylic Polymer Waterproofing Coating. This chemical is processed at our state-of-the-art processing unit keeping in mind set industry standards. Used in waterproofing of all types of RCC surfaces like chajjas, parapet walls and external walls, this chemical is highly demanded in construction industry. It is a milky white liquid which is applied to make surface waterproof. We offer this Perma Acrylic Polymer Waterproofing Coating at market leading rates to clients.

Acrylic Polymer Waterproofing Coating appears to be milky white in color and ranges from 1.5 to 15 kilograms in size. Available under the brand name Perma Eazee Coat - SP, it renders exceptional strength and waterproofing characteristics to the surfaces of the structures over which these are applied. Our offered product offers high stability against harmful ultraviolet radiations and flexibility. This easy to use coating can be easily applied with a single stroke of brush.

Usage :

The usage of Acrylic Polymer Waterproofing Coating is to waterproof the following:
Using nylon mesh or scrim cloth, asbestos cement sheets can also be waterproofed
Can be applied as the final coat on textured and decorative walls
RCC surfaces like parapet wall, exterior of wells and roofs.
Waterproofing of all forms of RCC surfaces such as chajjas, parapet walls, roofs and external walls.
Waterproofing of asbestos cement sheet by making the use of nylon mesh or scrim cloth at the overlaps, junctions, and J – bolts as support.
Employed as a damp proof course, used under the primal layer of blocks or bricks in masonry activities.
On account of its precocious quality, it can be utilized as a last coat on various vertical surfaces after employing the a roller brush for the desirable texture.

Benefits:

With a spot application, several mechanical damages can be easily repaired
Offers smooth surface finishing that is resistive to high temperatures
Renders seamless application without any joint
Applied straight from the can.
Provided a resilient, permanently flexible and smooth-textured surface that is resistant to a wide ambit of temperature.
No requirement of cleaning solvents, can be easily washed out with water in its wet condition.
Capable to repair the mechanical damages to the membrane by a spot application.
Enable the concrete surface to get proper airing.
Has seamless application without the requirement of joints.
Typical Applications: Used in waterproofing all types of RCC surfaces like chajjas, parapet walls and external walls.
Packing: Available from 15 kg to 50 kg.
Coverage: 1 kg covers 18 sq. ft.
Directions For Use
Waterproofing normal concrete: Clean the surface to make it free from cracks, blemishes and honeycombs. Brush apply Eazee Coat – SP primer on the full surface broadly. Primer is preconditioned by diluting one portion of and one volume of water. When the primer coating is dry apply one extra coat of Acrylic Polymer Waterproofing Coating. When this coat is still moist, provide scrim fabric, fiber-glass, or nylon mesh supports at spots of vertical as well as horizontal surfaces. After this make a second coat of the product so as to acquire a smooth & even finish of the desired surface.
On asbestos sheet roofing: Give nylon mesh, scrim cloth or fiber-glass fabric at junction as well as J bolts of sheet over one coating of Eazee coat – SP. Afterward brush apply the coat on the total surface with two coats.