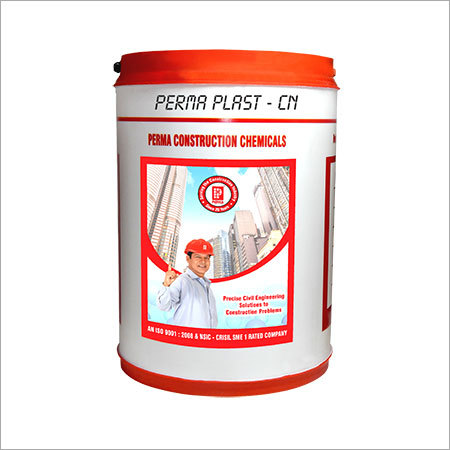 Corrosion Inhibiting Admixture
Product Code : 427
Product Description
Powered by many years of experience in the domain, we are offering premium quality Perma Corrosion Inhibiting Admixture. This admixture is widely used for increasing the passivation of reinforcement and is widely demanded in construction industry. Our offered admixture is processed under the proper direction of our highly skilled professionals by making use of superior grade chemical compounds with the aid of modern processing techniques. Clients can avail this Perma Corrosion Inhibiting Admixture from us at reasonable rates.

Provided Corrosion Inhibiting Admixture is a corrosion inhibiting mix for reinforced cement concrete that provides protection from corrosion to the reinforcing steel in the concrete. The porous concrete enables ingress of moisture and water in the RCC structures that can corrode the reinforcing steel and decrease the structure & serviceability of concrete members. An addition of the provided admixture in concretes during the construction itself insures corrosion free reinforced steel with extended durability.

Advantages:

The liquid easily blends with water therefore can be simply dosed with water.
Congenial with all types of cements as well as different other admixtures.
Stands as a VOC free product thus is safe for the environment.
Otis free from sulphates & chlorides, non hazardous.
Capable to increase the life of the structure by giving protection to the steel.
Does not make affect on the plastic properties of the concrete.

Properties:

Co lour: Light Straw Liquid
Solid Content: 30%
Specific Gravity: 1.6 to 1.18
pH Value: 7 to 9
BS 5075: Part 3
ASTM C494: Type A, C, E & F
Action:

Adding Perma Plast CN to concrete in the RCC structure leads to a reaction between the nitrite ions in the product with the ferrous oxide ions. This results in the formation of a highly stable ferric oxide layer around the steel. This also gives protection to the steel from chloride attacks of any kind. Besides, this way, a heavy duty rust resistant concrete barrier is formed around the reinforcement.

Typical Applications:

Perma Plast CN as an effective admixture can be suitably used in steel reinforced concrete of different types, including both pre-stressed & post tensioned concrete. The product can also be used for concreting heavy duty marine structures and parking areas, floor slabs & garages. Providing excellent rust protection to manhole covers, drain covers, iron grills, etc., is another major use of Perma Plast CN.

Dosage:

The product can be added with water. Other admixtures used should be dosed separately only once the product is mixed with water. The best dosage amount is 7.5- 22.5 Litres / cubic meter of concrete.

Shelf Life: