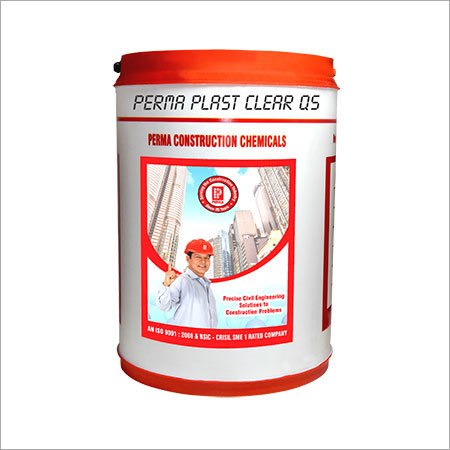 Plasticizing and Quicksetting Compound
Product Code : 429
Product Description
We are the most credible name engaged in manufacturing, exporting and supplying premium quality Perma Plasticizing and Quick setting Compound. This compound is processed by our team of skilled professionals using premium quality chemical substances with the aid of advanced processing methods. The offered compound is widely used for mixing cement that improves strength and makes it easy to apply. Further, this Perma Plasticizing and Quick setting Compound is offered in diverse packaging options at the most affordable prices.

Offered Plasticizing and Quicksetting Compound is utilized in fast setting mortars & concretes. Also applicable for the concreting of pre-cast elements, te product can execute its task in the low temperatures. Useful for reducing rebound losses in sprayed mortar, it can waterproof concrete & plaster.

Primary Uses:

Utilized in concretes and mortars for quick setting.
Can be used for concreting of various pre-cast elements.
Concreting and rendering work done at very low temperatures.
Also used for waterproofing different types of plaster & concrete.

Typical Application:

Mortar layers can be rebuilt with ease and in a quick manner without collapse using Perma Plast Clear QS as the product is known to speed up the setting time.
Use of the product minimizes rebounded losses in cases of plaster mortar, shot-creting & guniting.
The product also removes possibilities of broken edges while the molds are being lifted in the case of hollow solid blocks (pre cast), tiles made of cement, pavers, etc.
Especially used in low temperature climates for facilitating quick and easy setting of mortars and concrete.

Directions For Use:

Take recommended dose of Perma Plast Clear QS and mix with the gauging water before adding the dry mix. This procedure needs to be followed in the case of both dry and wet shot-creting processes, and for guniting purpose in concrete and mortars. A separate dosing tank fitted on top of the mixer should be used for dosing Perma Plast Clear QS. Dosing can also be done manually, if required.
Advantages:

Works as a quick hardening compound.
Lessens the rebound losses in plastering mortar shot- dem and guniting.
Proffer savings on maternal, labor and machine time period.
Provided in the form of liquid.
Helps in completing the hydration of cement so as to obtain excellent strength.
Can be used with all kinds of elements.

Dosage:

Dosage may vary depending on the temperature conditions, the exact type of cement used & the acceleration required. Dosage recommended usually varies between 1 to 10 percent by weight of cement. In pre-cast elements, a lower dose is required whereas the dose may be increased in shot-creting. If the product is simply used for waterproofing, a minimum dose of 250 gms for a 50kg bag of cement will suffice.

Properties:

Form: Chloride free liquid
Chlorides: NIL
Sulphides: NIL
Nitrates: NIL
Specific Gravity: 1.22 +/- 0.05
Air Entrainment: NIL
Flash Point: None
Composition:
The composition of this product is based on synthetic plasticizers & refined silicates.
Caution:
Avoid over dosage of the product as it might lead to flash setting of the concrete/ mortar
Concreted or shot-creted areas should be kept free from ice.
Frozen aggregates should not be used when the product is used for concreting in low temperature regions.
Gauging water should be kept to to a minimum.
Conformance should be ensured to the results and norms laid down by the concreting authorities for cold weather.
Compatibility:
Shows good compatibility with Portland cements of all types. Consult a Perma technical officer or Distributor for any kind of assistance required on compatibility. It is recommended that separate dosing be done if any compatible admixtures are to be added in the concrete.
Health And Safety:
Is low on toxicity. However, spillages must be taken care of immediately to prevent slipping.
Packing:
Sold in 30 kg, 120 kg & 250 kg HDPE packs.
Shelf Life:
24 months (to be stored only in the original packing for maximum effectiveness).