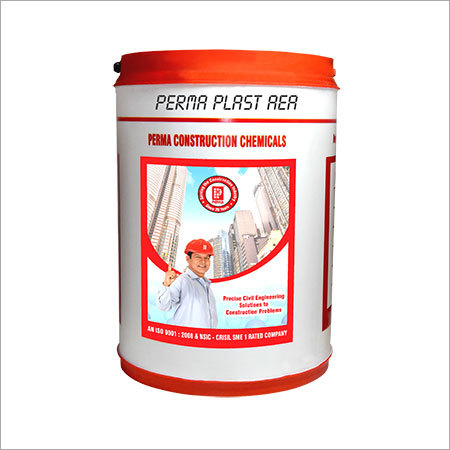 Water Reducing Admixture
Product Code : 404
Product Description
With rich industry experience, we are presenting our clients a qualitative range of Perma Water Reducing Admixture. We assure our clients that this admixture is processed by making use of superior grade chemical compound and advanced methods. Demanded in construction industry, the offered admixture is mainly added with concretes to improve quality and acquire specified strength at lower cement content. Besides, this Perma Water Reducing Admixture is offered in 10 ltr to 25 ltr packaging options at reasonable prices.

Offered Water Reducing Admixture is a chloride-free, high performance, water reducing cum air entraining agent used for concrete, mortars and lightweight aggregate mixtures. The introduction of this brings about entrainment of countless microscopic air bubbles of appropriate size and placement, which have also been evenly apportioned throughout the matrix

The product should be utilized or added during the operation of mixing. It is not necessary to execute a preliminary site attempt to ascertain the magnitude of air boarded in fresh mortars or concrete. The function of the admixture depends upon the air & flows entrainment needed. The preliminary attempts should be conducted at working locations so as to find out the optimal dosages. After the addition of Water Reducing Admixture, the mixture should be soundly amalgamated so as to attain an uniform homogeneity & consistency.


Advantages:

Offer improved workability & compaction.
Reduces the water cement ratio, and thus offer increased strength.
Provide enhanced resistance to mortars.
Produce homogeneous concrete, free from bleeding.
Helps in producing cohesive concrete, free from bleed, reducing segregation.

Application Areas:

Our water reducing admixture is used for making concrete, plaster & masonry mortars. These are practical in marine atmospheres and constructions. Also, the admixture is effective for on-site concrete, light aggregate concrete and ready-mix concrete. It is outstanding for the precast industry. Also, it helps avoid honeycombing.

Direction For Use:

Perma Plast AEA (Water Reducing Admixture) is added during the mixing procedure. It is required to perform a preliminary site test to find the amount of air entrained in the concrete or mortar. The dosage depends upon the air entrainment and flow required. After addition of the admixture, it should be mixed thoroughly. This results in homogeneity and uniform consistency.

Packing: Come in 10 Litres to 25 Litres, and in bulk pack.

Shelf Life: 24 months, from the manufacture date.