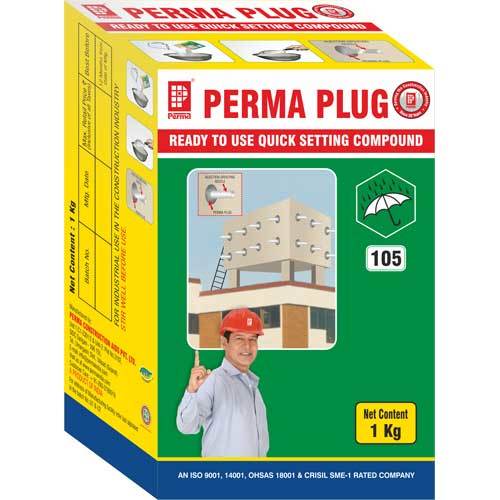 Waterproofing Compounds Concrete
Product Code : 05
Product Description
With the help of our skilled team of professionals, we are offering Perma Waterproofing Compounds Concrete that is a free flowing quick setting cementious powder. The offered chemical is used for plugging of grouting nozzles and is also tested on various quality parameters by our experts before delivery at clients' end. Processed using quality tested chemicals under the guidance of skilled professionals keeping in mind defined industry standards, this Perma PLUG is offered at most affordable price to the clients.

As the name suggests, our offered Waterproofing Compounds Concrete are especially made to be used with the structures that use concrete. The mentioned product is an ultimate solution not only for the waterproofing of buildings using concrete, but plasters. This compound is prepared using surfactants and synthetic resins for imparting characteristics of cohesion and flowing in the mortars.

Primary Uses

This chemical is mostly used for:
Heavy duty Plugging of cracks and grooves in pipes, sleepers or girders
General repairing work of edges of concrete structures
Effectively fills joints, brickstones, etc. due to quick setting property.

Advantages

Available in the form of powder, this chemical is easy to use
Hardens quickly and gains imparts strength to vulnerable areas
Works well with different cement based materials, stone, brick, steel etc.

Directions For Use

Remove dirt and loose particles from the concrete surface and water the area. Mix the chemical with water in 3:1 ratio to form slurry. Spread it over the concerned area and allow it to dry.

Packing: Perma PLUG available in 1kg to 25 kg.
Coverage: 1kg yields can be avail 550 cc of plugging mortar.